Winemaking Carbon Footprint International Norms
In 2008 the European Commission adopted the "Sustainable Consumption, Production and Industry Action Plan" in order to support the policies set to improve energetic and environmental characteristics of the products. One of the actions included in this plan will imply that calculation of the environmental footprint will be mandatory for certain organizations and products from 2015-2016 on.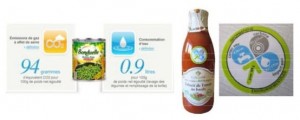 The wineries that export their products have detected an increasing demand on environmentally friendly practices. In countries like Australia, New Zeland or Canada, the carbon footprint is a requirement in order to enter certain market niches. Within Europe, in United Kingdom and France, the carbon footprint is a key factor for certain distributors in order to commercialize products.
In Spain, the office of global warming of the Ministry of Agriculture, Food and Environment has set a National Entry Register of carbon footprint, offsets and carbon dioxin absorption projects. This entry register, which is opened to any company that calculates its organization carbon footprint, aims to encourage companies to take actions that reduce their greenhouse gas emissions.